Mission
SprachCafé Polnisch in Berlin-Pankow is an open meeting place, especially for fans of Poland; the country and its people, Polish language, culture and cuisine.
We meet to talk in Polish and German or in another language, to exchange ideas about interesting topics, to learn from each other, to support and inspire each other – in every way.
We are always looking forward to meeting new people and new ideas. Bilingualism, multilingualism and education are at the core of our work. We work across generations and interculturally. Children are very welcome.
Hospitality and non-violent communication are important components of our everyday life. We respect and appreciate each other. We want every single person and our whole community to succeed.
Join us!
Structure of SprachCafé, our values & visions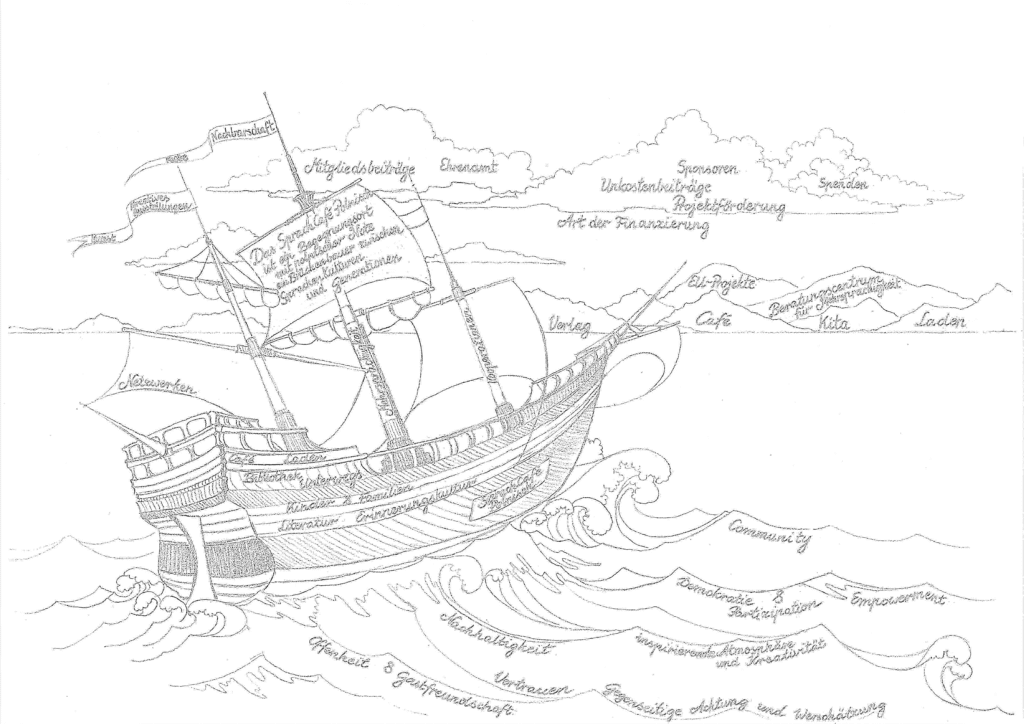 This drawing is a result of our intensive teamwork in 2020.
This is how we visualised the structure of the SprachCafé identified its' values, presented our mutual wishes, dreams and visions.
Now we are curious to see where this ship will arrive and how it will be received…
History
In 2008, the teacher of our girls' kindergarten had the right idea: Could a mother tongue, in this case Polish, help the new girl, Miriam, to acclimatise and integrate into the group, thus creating a really good climate?
We, the mothers of Polish-speaking children, gladly accepted the invitation to participate and organised a series of meetings about fairy tales, legends, rhymes, songs, art activities and even cooking (dumplings with strawberries!) for children and with children in the Pankow kindergarten. It was a great success. Later on, children's parents and grandparents also happily attended these events.
Is this how the concept of the Polish Language Cafe was born?
Our interests, special skills and a lot of luck helped us with the development of the café. Our greatest motivation, however, were our guests, who contributed a lot of their own content. And this development continues to this day.
Many people of different ages and from different countries benefit from the wide range of topics and forms of meetings, culture and education in Pankow, from the good neighbourhood and the lively exchange, enriching themselves as well as the café.
In 2012 we took the initiative to establish the café. In 2016 we were successful: the Café was registered as a non-profit association. In January 2018 we moved into our own premises at: Schulzestrasse 1, 13187 Berlin-Pankow!
You are very welcome! Also to co-create it on a daily basis!
Thank you to all the co-founders and contributors of this local social initiative!
Our place: Schulze
Since January 2018, after years of activity, we have our own premises: at Schulzestr. 1, 13187 Berlin-Pankow, directly at S-Bhf Wollankstraße.
For us – the bridge-builders – the location in the former Berlin Wall strip has a symbolic meaning.
SprachCafé Polnisch as an open meeting place has become a reality, not only for the inhabitants of Pankow, but also for the whole city and its visitors.
You are very welcome to contribute to the Café, to stay here with us and to enjoy its unique atmosphere!
And here is a small photo gallery, which you can click through right now.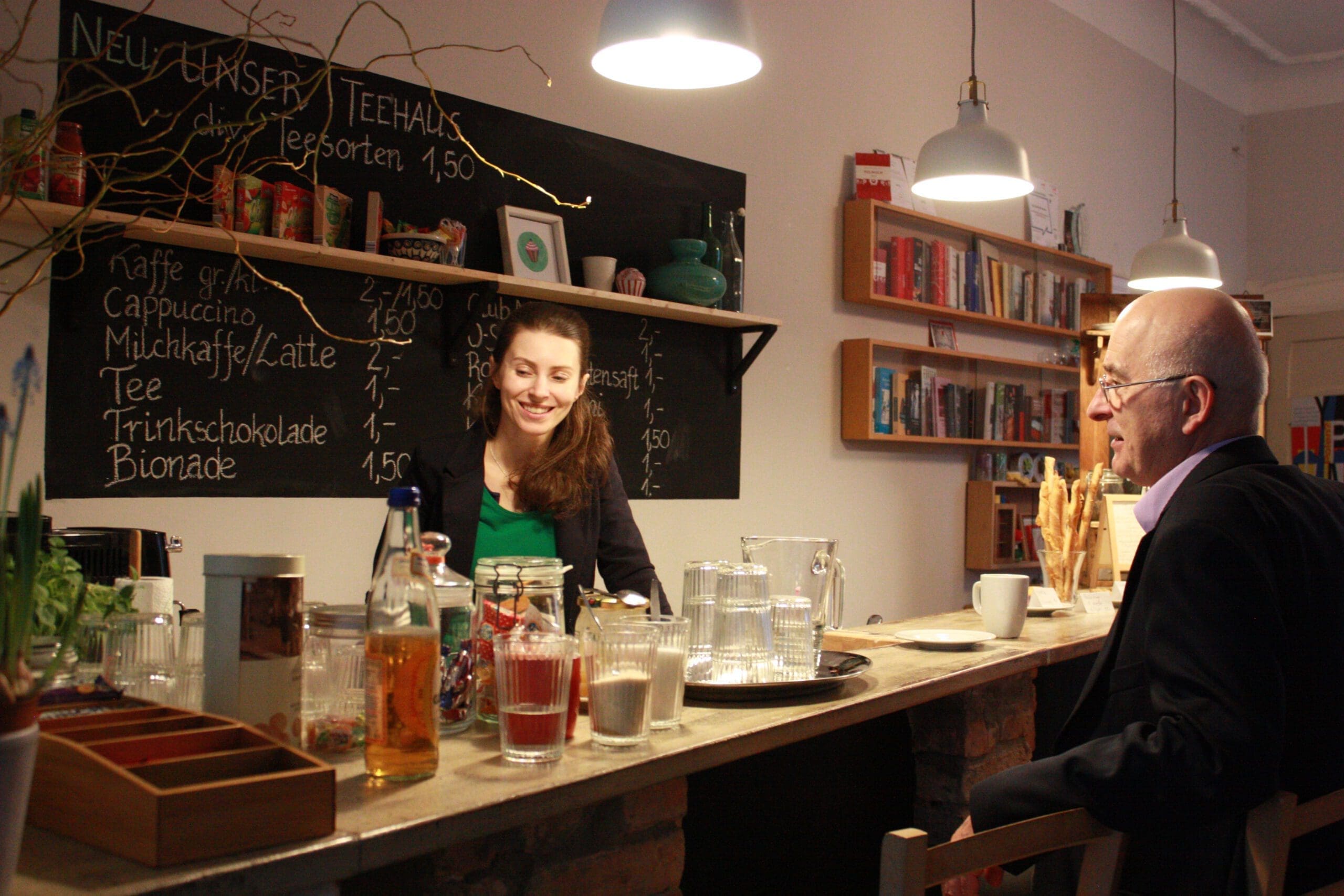 You can find us on Schulze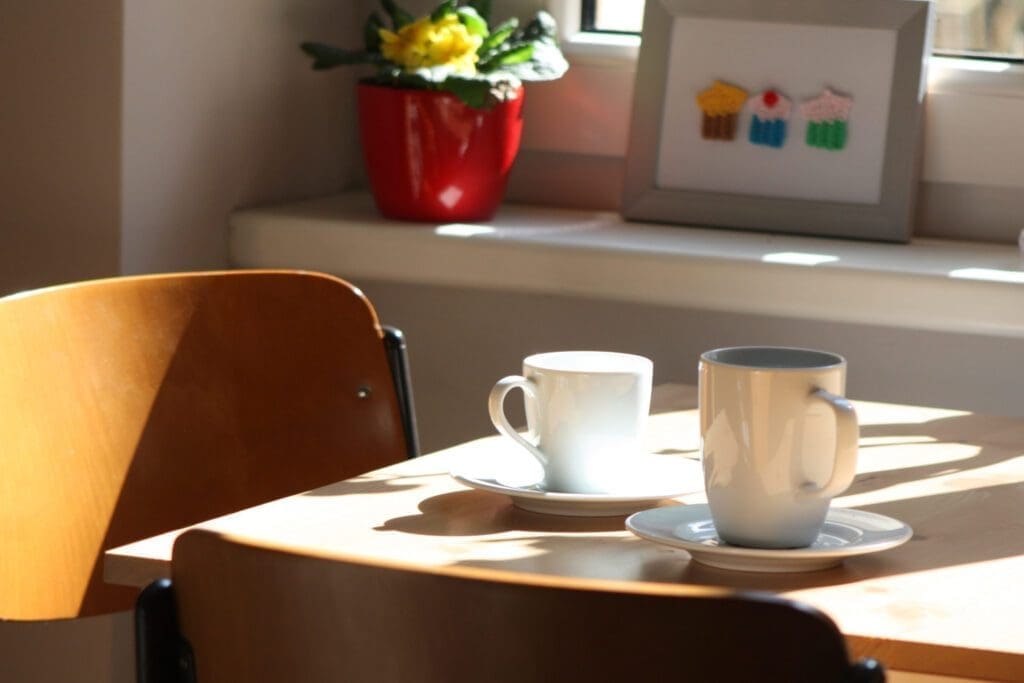 The neighbourhood Café with a Polish twist is a space for meetings, also perfect for conversations and individual work.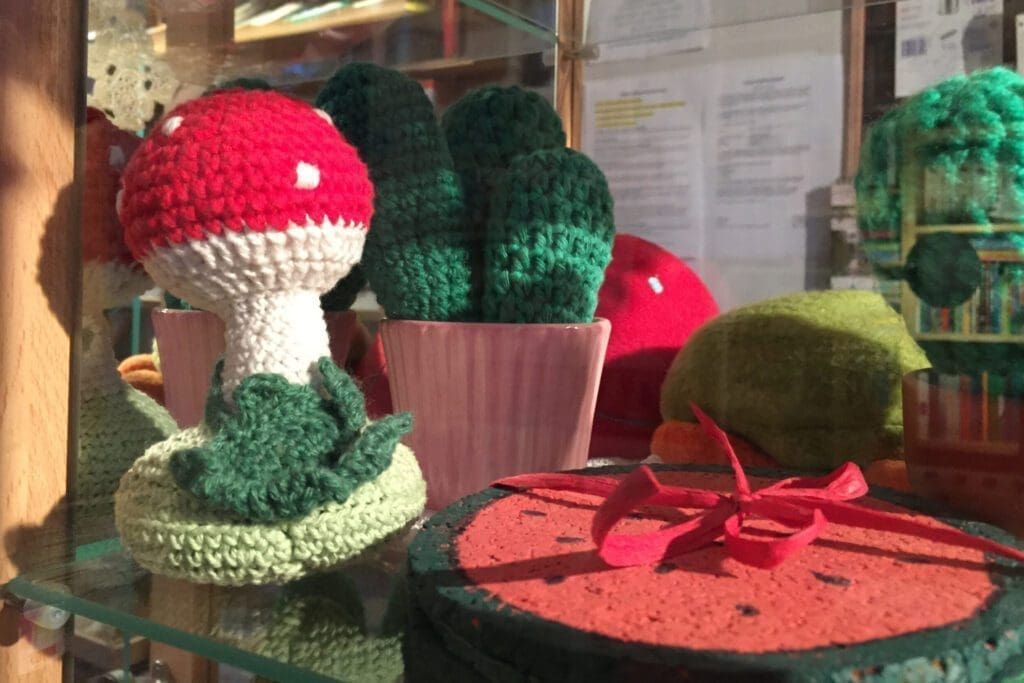 Our shop offers books for sale and original handcrafted treasures for various occasions to admire and for sale.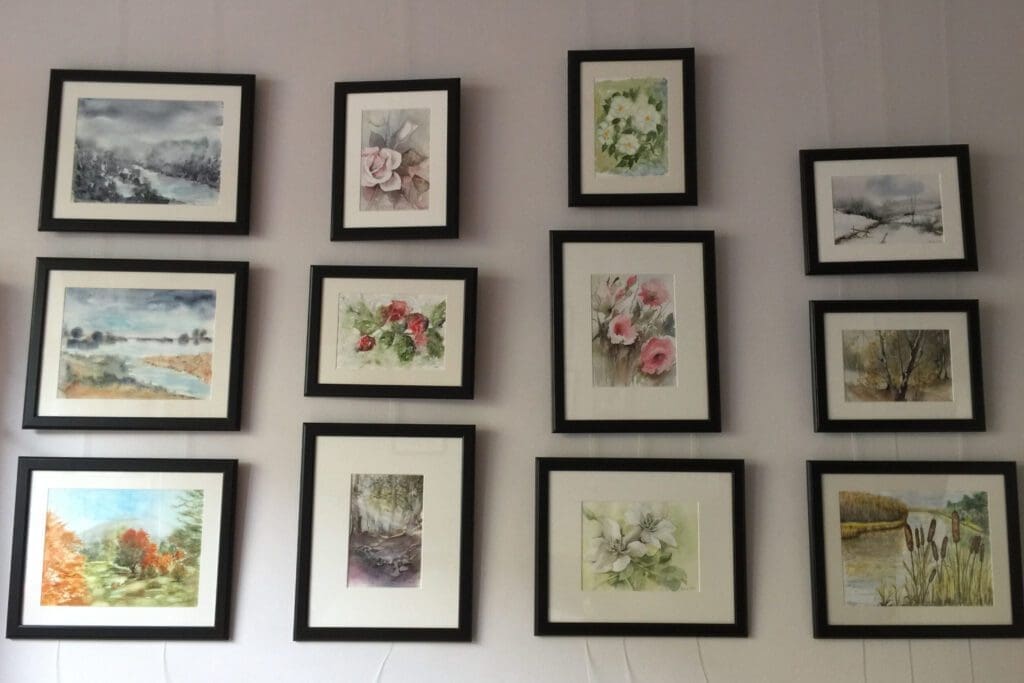 Exhibitions are a space for meetings of a special kind – for Café's visitors and especially for artists.
At Schulze we have a small library, mostly in Polish, where you can borrow or buy books and sometimes meet the authors.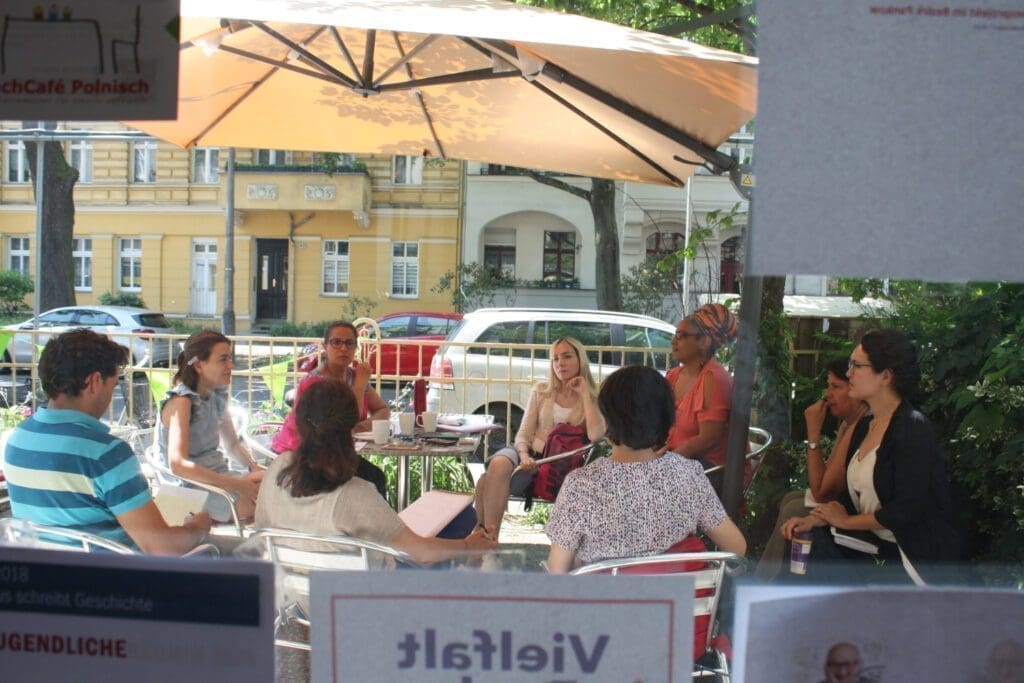 Schulze hosts our Team meetings, Board meetings, partner talks, individual trainings and coaching sessions.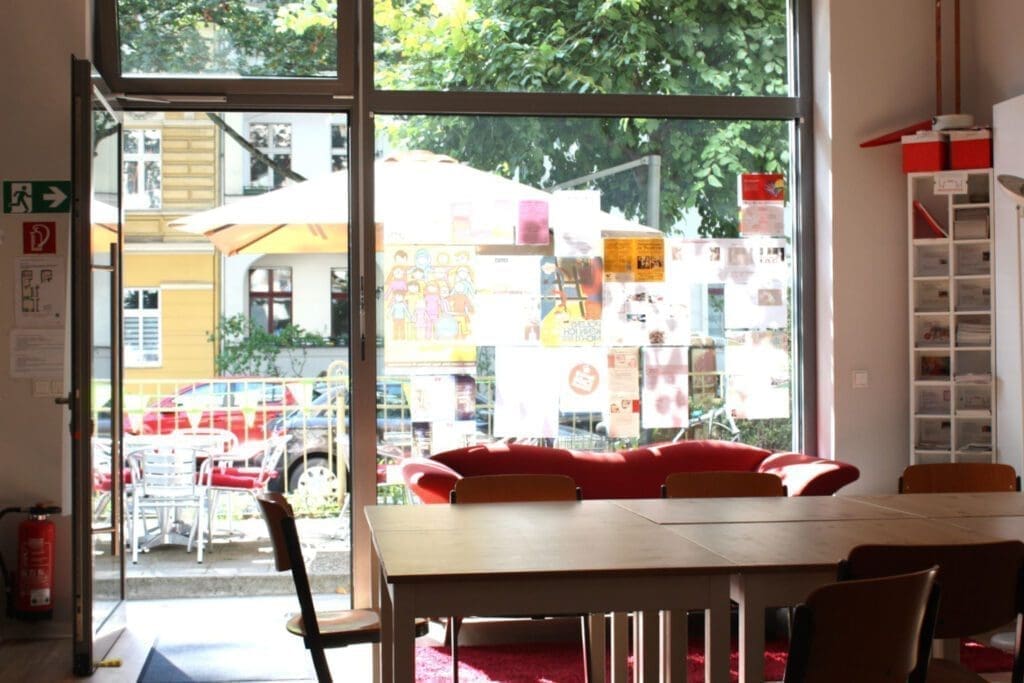 Premises
You can rent rooms from us – for your meetings, seminars, workshops or birthday parties.
Contact us!
You too can contribute to the lively development of this place!
Most of the things we already have. However, we are always in need of:
support for the technical implementation of our online meetings
materials for current activities: paper and printer cartridges, office supplies, paper towels, napkins, cleaning products, etc.
We are planning:
development of online formats
adoption a courtyard along with our neighbours, so that we can enjoy it together
ongoing repairs and improvements
In order to carry them out, we need hands and minds. If you are interested in acting in this area, please send us a message. Let's work together in SCP!